How to sell on eBay (9 Steps In-Depth Guide)
LAST UPDATED: October 15, 2023 | By Conrad Golly
You want to make some extra money, but you don't know how to sell on eBay.
Selling online can be a great way to make some extra cash, but it's hard to know where to start and what the best practices are for success.
With so many rules and regulations, it can be overwhelming trying to figure out how everything works.
I have the perfect solution!
In this in-depth guide, I will walk you through all of the steps necessary for setting up your eBay store and making sure that your sales go smoothly.
If you strap in and read on you'll soon be going from how to sell on eBay to a proud eBay account owner with a seller account.
What is eBay?
eBay is an online marketplace that allows people to buy and sell items in a wide variety of categories across the globe.
With more than a whopping 25 years in the market, eBay is a leading eCommerce platform with more than 187 million active users worldwide.
Not to mention that its user base continues to grow as it attracts an average of 100 million new customers each quarter on average.
eBay sellers are offered a vast array of services, ranging from auctioning to payment processing, shipping, fixed price sales and customer support.
It is also the chosen app for an impressive 34.9% of US mobile users! This speaks volumes about its user-friendly interface and convenience that many consumers have come to rely on.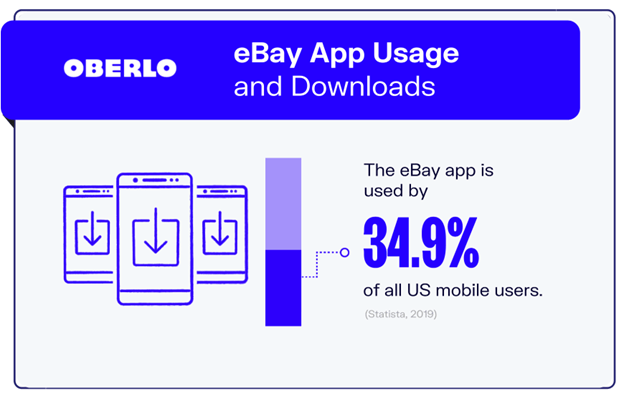 Source: Oberlo
eBay has an astounding more than 1.5 billion listings to choose from, with virtually anything you can imagine at the tip of your fingers!
Not only is this a great starting platform for an eBay seller but eBay's global shipping program allows you to reach eBay shoppers with international shipping.
Should you sell on EBay?
Pros:
Wide reach:
With millions of global buyers on its platform, eBay offers you the chance to expand your customer reach and sell your items to a much vaster group. Leverage this international opportunity today!
Low fees:
eBay is an ideal choice for both small and large entrepreneurs, as it offers reasonable fees to list and sell products.
Flexibility:
On eBay, you have the power to list whatever you want- be it brand-new products or used ones, handmade crafts and trinkets, or even vintage finds! You also get a choice between running an auction for each item or taking advantage of fixed pricing. With these options at your disposal, there is no limit on what exciting items you can sell!
Reputation:
With its outstanding reputation for reliability and dependability, eBay stands out as a premier destination for buying and selling online, one that is sure to instill confidence in potential customers.
Cons:
Fees:
eBay charges fees for using its platform, including listing fees and final value fees. These fees can eat into your profits, especially if you're selling low-priced items.
Competition:
eBay is a competitive marketplace, and you may have to compete with other sellers for buyers' attention.
Fraud:
Unfortunately, fraud is a risk when selling online, and you may encounter fraudulent buyers or sellers on eBay.
Returns and customer service:
Handling returns and dealing with customer service issues can be time-consuming and may require a significant investment of time and resources.
In essence, eBay is the ideal way to effortlessly turn your super cool video game collection or clothes from the flea market into some cold hard cash.
Lets not forget selling on eBay doesn't mean you can't join the eBay Buyers club too!
How to sell on eBay step-by-step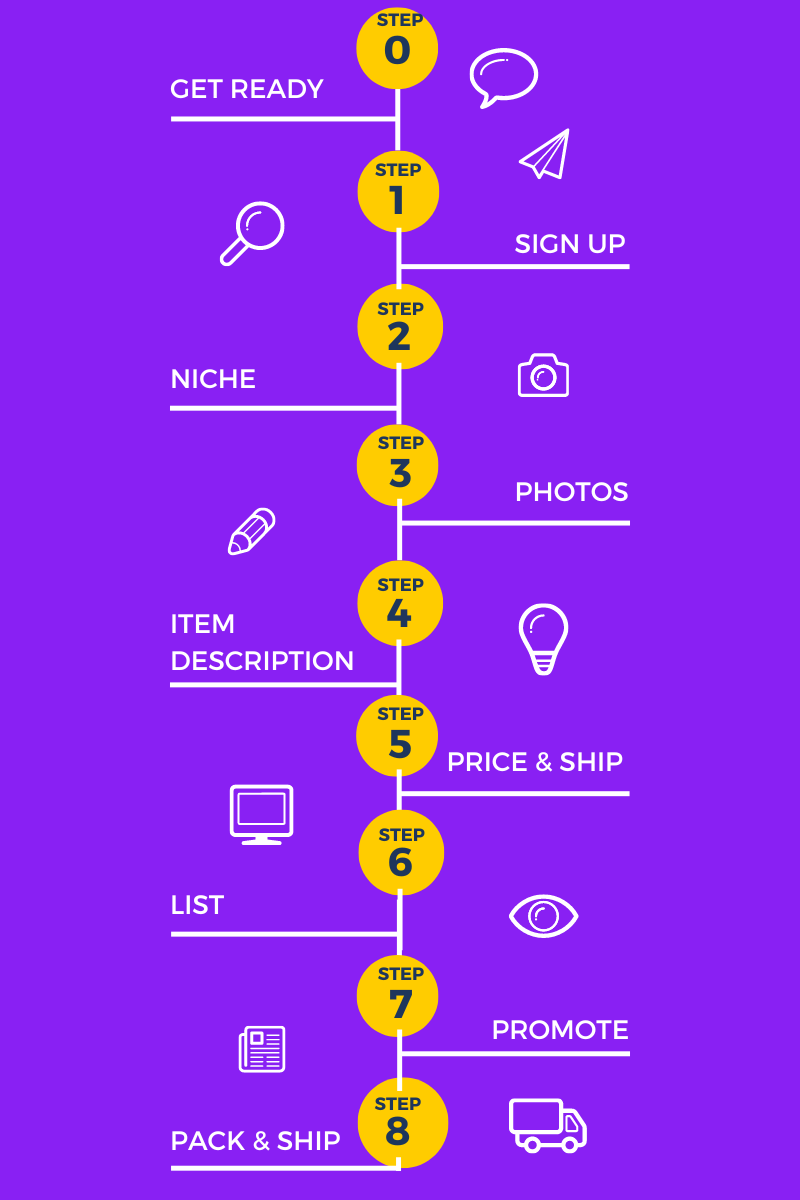 Before we start setting up our eBay shop, we need to lay down some groundwork to know if an eBay seller account is the right fit.
Step 0: What to know before you start selling
Yes, there is a step 0, but this is the foundation of your future business, and I don't know about you but I don't want a massive skyscraper built on a weak foundation.
Estimate the amount of time, money, and energy you can allocate to your project.
Creating a successful business on eBay takes dedication and determination.
You cannot expect to put in little effort, yet receive immense returns as many people tend to do when they open their stores.
To make it big, you need to dedicate time, money, and energy; if you don't want to invest your hard-earned cash into purchasing systems and workflows to increase your productivity then you will have a hard time growing.
I know for me, as a more natural penny pincher sometimes my habits have constrained the business-oriented side of my personality.
You need to see your eBay business as you would any other job. Show up, put in the work and you will reap the rewards.
One of the most famous examples who got their start on eBay is Sophia Amoruso.
Now a driving force behind the successful Girl Boss empire, her fashion business started in quite humble circumstances, all it took was a bedroom back in 2006.
She sold vintage clothing niche with the store name Nasty Gal, just trying to make ends meet. Amidst the myriad of vintage clothing stores on eBay, what gave her store the edge?
Astonishingly, within 6 years it had become a thriving fashion retailer with a nearly $100 million turnover!
What is an eBay Store?
An eBay store is a paid subscription service offered by eBay that allows eBay sellers to set up a dedicated online storefront on the eBay platform.
With an eBay store, sellers can showcase their products in a clean online shop and can also take advantage of additional features and tools to manage and grow your own brand.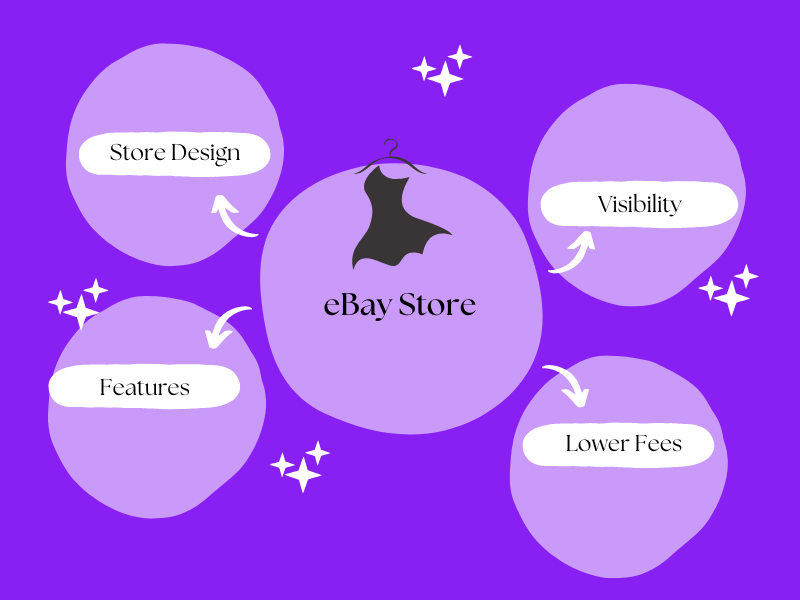 Some of the benefits of having an eBay store include:
Customized store design
Increased visibility
Enhanced tools and features
Lower fees
To set up an eBay store, sellers need to subscribe to one of eBay's store packages, which range in price based on the features and tools included.
Once you have a store subscription, you can set up and customize your new online business and start listing products for sale.
Niche Down On Your Business Account
Option 1: Sell what you own
If you're just starting in the world of e-commerce, your best bet is to start with items that are already yours. For example, don't let those vintage records go to waste!
Utilize eBay and put them up for sale—you never know who might be looking for something like that!
Moreover, if you want to be successful on eBay, the items you sell must be something that interests and excites you.
Selling bike parts but being passionate about fashion will not keep your business alive for long as there won't be any enthusiasm or motivation while running your online venture.
Selling in a "niche" will help you feel more in control and build your expertise and authority as that one guy or gal that sells "fill-in-the-blank products."
Best collectible underwater basket weaved baskets seller, anyone! I am not sure about the demand for this one, but in all seriousness do your research.
Option 2: Selling on ebay with trending product ideas
When you start, you are limited to only 10 listings, so you've got to make sure you're selling items that are going to sell in a reasonable time.
Kick-start your success by examining popular products to discover the hottest items.
eBay is a great tool to get ideas for what products you can sell, but it may be hard to find information on the most profitable items. 
eBay Watch Count is a tailor-made tool that will show you the trendiest or most sought-after products of the day so that you can make more informed decisions.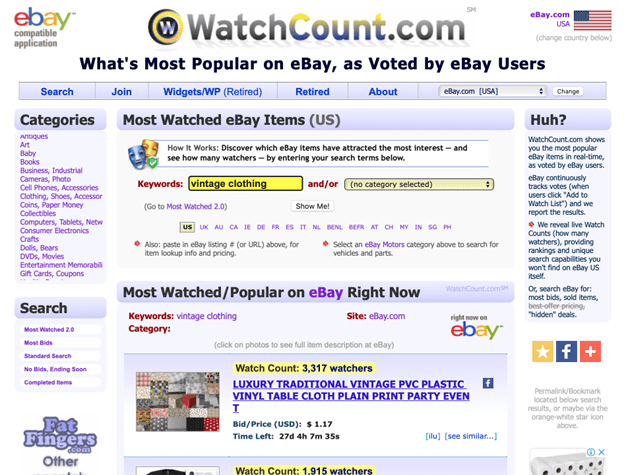 If you're looking for a data-driven solution to find profitable, trending products with insights into the competition and sales volume, ZIK Analytics is a good bet.
If you are constrained by resources, Google Trends provides some terrific complimentary research solutions that enable you to compare search terms over time.
To elevate your strategy, even more, incorporate those trends into product descriptions for a powerful SEO boost!
By figuring out what you can sell easily, and at what prices, you will have an edge over competitors. Your store will grow quickly if you sell in-demand products.
You Need A Dedicated workspace
Having a designated workspace for your eBay business can be beneficial in numerous ways. Establishing this type of space will enable you to:
safeguard your stock from destruction or depletion with preventative measures.
keep track of and manage inventory 
help your productivity and keep clear of distractions
streamline your packing and shipping process with organization
If you're just starting, there's no need to lease an office or storage facility.
You can begin by setting up your operations in a spare room, garage, or any other area that offers some additional space.
As the business progresses and develops further on its journey to success, you may find yourself needing extra storage unless of course if you are dropshipping products directly to customers.
Choose a business model
There is a plethora of methods to be successful on eBay, and the perfect model for you depends upon the merchandise being sold, your geographical area, along with various other aspects.
I do want to point out I prefer systems built around selling used products or wholesale sourcing for models since they can be the most newbie-friendly.
Now let's review all of the viable business models we can utilize to develop an effective eBay company.
1. Dropshipping
Dropshipping is a superb way for resellers seeking to reduce inventory and overhead costs. When you dropship, you purchase products from your supplier who directly ships them to your customers – thus avoiding any storage fees or double-up shipping expenses.
However, eBay's policy on dropshipping does not allow anyone to ship items from other marketplaces or retailers.
2. Selling used items
Start by sifting through your abode and determining items that no longer serve a purpose.
From electronics, educational playthings, handbags, or vases to antiques and souvenirs, the possibilities are huge!
You can also offer possessions that have been gently used yet still retain their original condition.
If there is any with slight damage you intend on selling, guarantee it's explicitly declared in its portrayal so customers comprehend what they're purchasing.
This will avoid any unwarranted negative reviews, this strategy will help ensure that buyers are not taken surprised by any faults and instead leave a favorable review.
Beginning with bad reviews can hurt buyer trust in your shop and consequently affect sales.
3. Retail arbitrage
If you want to make a profit quickly, then retail arbitrage is the perfect strategy for you. This method involves buying inventory at lower retail prices and reselling them at higher prices so that you can maximize your profits.
4. Private-label/white-label products
Selling private-label or white-label products is a great way to increase your profit margins and stand out from the competition.
This model works by purchasing generic products from a manufacturer, rebranding them with your label, then reselling them on eBay or another online platform.
For example, let's say you want to sell essential oils – you would purchase those in bulk at wholesale prices and have the manufacturer attach your branding before selling it through an online store like eBay.
While this type of business does require some capital investment upfront, if done correctly it can be highly profitable!
5. Wholesale
Investing in a wholesale business model is an excellent way to make a profit if you are willing to stock up on items and offer them at discounted rates.
You can acquire products directly from suppliers or via online marketplaces like DHgate or Alibaba.
Remember, this means that you'll need ample storage room for all of your inventory.
To give one example, let's say you wanted to auction off coffee beans on eBay.
You can purchase the beans in bulk, repackaging them into smaller lots, and then selling each package individually with mark-up prices attached, it's possible to generate considerable profits!
Step 1: Sign up for an eBay account
Ready to take your selling endeavors off the ground and start profiting on eBay? Creating an account is hassle-free, and effortlessly accomplished online.
Visit the website and press "Sign In" at the top right corner of the page followed by selecting "register".
Step 1.1 Create Account
Go to the Create an Account page and enter your name and email address into the fields. Pick a secure password and begin your journey.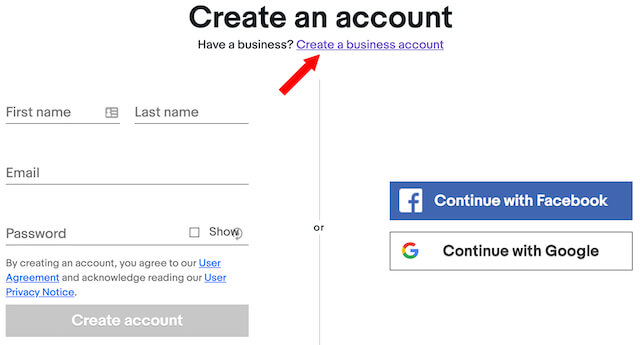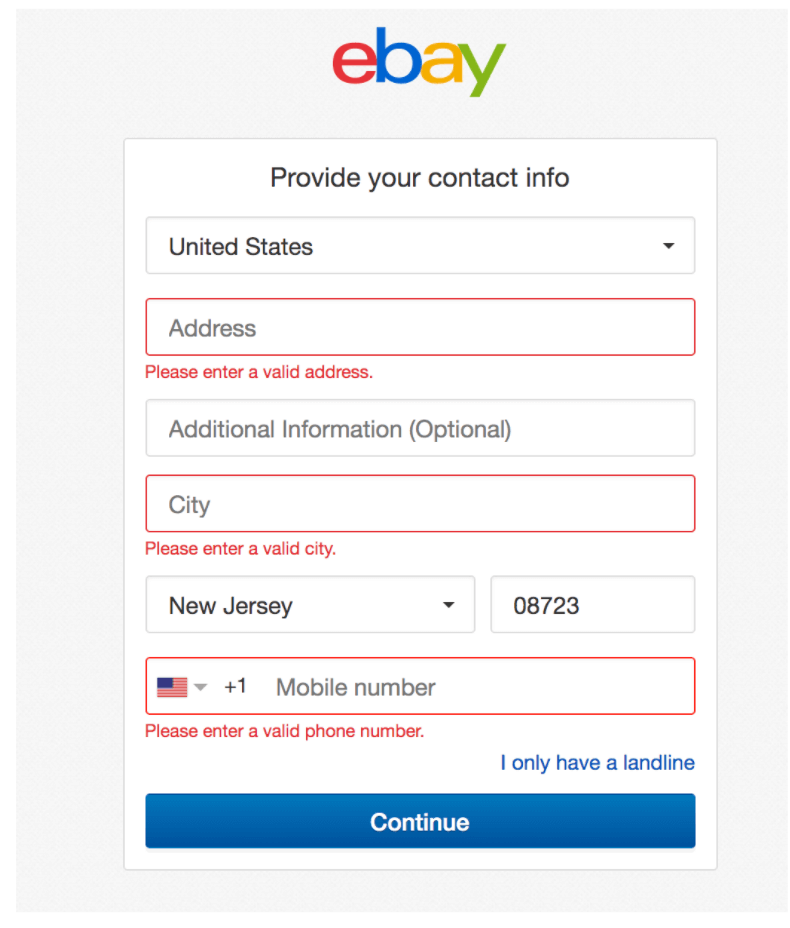 Once you click "Create account," your new eBay profile will be created and ready for use.
eBay generates a username automatically, but feel free to change it in the "My eBay" section under "Account," then "Personal Info.
Now that you're all set up, don't forget to add your bank account first so that you'll know exactly where the money from product sales should go!
Step 2.2 Add automatic payment method 
Get compensated for your efforts you need a way to get that money! To get started, head to the top right corner of eBay's homepage and select "My eBay".
Then click on "Selling" then "Account". From there, simply add your checking account information to ensure payments are sent according to your desired schedule.

Under "Payments," you'll see "Payment options." Enter the information for the bank account to which you'd like to receive payments for your eBay sales. 
Note: It used to be sellers were only paid via PayPal. However, eBay announced that they will not offer PayPal as a payment option near the end of 2020. Instead, eBay made its payment process called Managed Payments, which sends payments directly into sellers' bank accounts. 
With Managed Payments, eBay automatically deducts the selling fees associated from your sales earnings before the payout. 
Step 3.3 Selling!
You're all set to start selling items on eBay – it's easy as that!
Step 2: Determining Your Niche
Before you start selling items on eBay, it's critical to have a plan of the products you want to list.
This can involve anything from pre-loved apparel and accessories to classic collectibles, or even new electronics.
Carefully selecting the right product is essential if you want to make money on eBay.
Before listing, adequately research profitability and market demand for your prospective products as well as their competition to guarantee that any investments you make will be worth it.
Investing in products to resell on eBay is a great way to generate extra income, but it's vital that you make sure your return makes up for the initial cost. You will also need to keep eBay's seller fees in your calculations.
When a seller initially posts something to eBay, an insertion fee is charged to list the item. This same charge will be applied if they relist their product or duplicate it for auction-style bidding, as well as when transferring that item into another category altogether.
Insertion fees are non-refundable even if the item doesn't sell, though eBay offers each seller up to 250 free listings each month (or more for sellers running eBay Stores).
If you have more than 250 items listed, a charge of $0.35 per listing will be applied for the majority of products. Final value fees are determined following each sale and are calculated as a percentage of the buyer's total amount paid, including shipping charges plus $0.30 extra on top of that. Here's an overview of final value fees classified by product categorization:
The fee for most categories is around 12.9%
Books, DVDs & Movies, Music: 14.6%
Clothing, Shoes & Accessories > Women's Bags & Handbags: 15%
Jewelry & Watches (except Watches, Parts & Accessories > Watches): 12.55%
Jewelry & Watches > Watches, Parts & Accessories > Watches: 15%
Art > Art NFTs: 5%
Select Clothing, Shoes & Accessories categories: 8%
It's worth noting that the fee rate for some categories decreases once a certain price threshold is met.
On average, you can count on paying 12.9% in selling fees on eBay – an amount lower than what other ecommerce marketplaces charge and leaving room for a healthy gross profit margin!
As you evaluate the costs of your business, product and shipping expenses should also be taken into account.
When shopping online, nearly half of Americans are willing to splurge on faster delivery times, so don't forget to ask customers to cover those shipping fees!
Remember that even items found at thrift stores may add up when running a profitable business.
There are a few free eBay fee calculators available to help you understand the profitability of your sales.

I have a Tool we made right here to calculate your eBay fees
The most straightforward approach to determine a product's profitability is to analyze the data eBay provides. To identify products that consumers are eager for, you must understand the sell-through rate or how many sold listings compare with active ones expressed as a percentage.
A high sell-through number means there is an abundance of demand for this item—numerous available items attract buyers quickly and easily. You can calculate the ratio quickly by utilizing information from eBay advanced search results.
When searching for items to list on eBay, make sure you are sourcing products with a sell-through rate of 50% or higher.
Anything below that could mean waiting weeks – even months! – before your item is sold as there's often not much demand for it. Fortunately, eBay offers access to both active and sold listings over the past 90 days; allowing you to calculate up-to-date sell-through rates quickly and easily.
To demonstrate this process we'll use a made up shoe (high heel clown shoes) example so you can see how powerful search filters can be when selling products through eBay.
Searching "high heel clown shoes" on eBay returns 10,579 results. This means there are 10,579 different active listings for this shoe.
The results of the filtered Sold and Completed listings reveal 5,678 high heel clown shoes have been bought in the past three months.
To get an accurate measure of this demand, divide 5,678 by 10,579 which gives us a sell-through rate of 54%. This proves without doubt that high heel clown shoes are highly sought after!
It's also evident that these shoes tend to sell quickly with customers buying them multiple times daily.
Step 3: Take high-quality photos of your items
To achieve success on eBay, great photographs are essential.
You must remember that buyers cannot physically inspect the item of their choice, so they rely solely on visuals to recognize what they'll be purchasing.
Therefore, it's important to take clear photos from various angles and incorporate any noteworthy details or damages in the description section.
To add a professional finish to your images, I like to use the function on my phone to lighten some pictures.
Yes, I said my phone. Many items can have their pictures taken on your phone and listed from the phone on eBay. That easy.
Step 4: Write a compelling item description
Your product description is just as essential for a sale as the images you post.
Make sure to cover all pertinent details like any significant features or imperfections, the condition of the item, and the size/specifications related to it.
Moreover, utilize expressive language that would fascinate prospective buyers!
Step 5: Set your price and shipping options
After deciding what item you're selling, it's time to determine the cost.
Evaluate market prices of similar items and also account for expenses like packaging or transportation fees.
You can choose between offering free shipping or including the fee in your price, as well as providing different delivery options such as standard or express shipping to offer customers greater choice.
Step 6: Create your listing
Once you've solidified your item description, photos, and pricing, it's time to list your product on eBay! All you need to do is click the "Sell" button at the top of the page.
This will take you through a few quick steps such as selecting a category for your item and determining its starting price or applicable auction terms.
Step 7: Promote your listing
To ensure that your listing attracts maximum attention, maximize its exposure.
Share it on social media platforms, send out emails to friends and family, or even post the listing online on classifieds websites, whatever works best for you!
Promoting your eBay listing is a great way to get more eyes on your items and increase the chances of making a sale.
With eBay's promotional services, you can do this for a fee of the sale, which is generally good around 2%.
This fee will be added to the overall fee cost of your item, meaning you'll need to take that into account.
The more individuals who are informed of your listing, the higher its chances of being sold quickly.
Step 8: Package and ship your item
When your item is sold, it's essential to ensure that it reaches the buyer in pristine condition.
Utilize robust packaging materials such as bubble wrap or foam peanuts for optimal protection during shipping.
FAQ's
How do Beginners sell on eBay?
1. Open an eBay account.
2. Create a listing for the item you wish to sell by selecting suitable categories, adding your information and photos, writing an accurate description, and setting up payment and shipping terms.
3. Promote your listing through social media platforms or other websites to reach potential buyers.
4. Ship the item to the buyer.
How much does it cost to sell something on eBay?
There may be additional fees based on payment methods, listing features, or other conditions. It is advised to check eBay's pricing page for complete details.
Is it worth it to sell on eBay?
If you want to make a profit from selling on eBay, several factors come into play. Firstly, the products you choose must have sufficient margin after factoring in listing fees and other charges. Secondly, your marketing efforts need to be effective enough to generate sales volume. With these two points taken care of, trading on eBay can be an incredibly lucrative endeavor!
How can I sell on eBay for free?
There are some basic listing fees when you create an item for sale on eBay. However, there are various ways to list items for free such as taking advantage of promotions or using specific selling tools. For instance, eBay offers 250 Free listings per month with a limit of one item per listing.
Conrad Golly
I'm Conrad, a retired first responder turned successful Tyapreneur with a passion for real estate, family, and business acquisitions. With a focus on growing online ventures, I bring a wealth of experience to the world of entrepreneurship. I write on investing, personal finance, family life, and business strategies, inspiring others to achieve their goals.